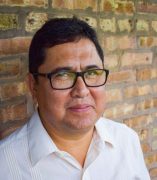 Joaquin Chavez, PhD
Associate Professor
History
Address:
601 S Morgan St.
Email:
Office Phone Voice:
(312) 996-3141
CV Download:
About
Professor Chávez is a historian of Latin America with a particular focus on intellectuals, revolutionary movements, and Catholicism in El Salvador. He received his doctorate from New York University in 2010, where he held the Henry McCracken, Dean, and Torch fellowships. During 2011-12, he served as Visiting Assistant Professor in the International Studies Program at Trinity College in Hartford, Connecticut. He joined UIC in Fall 2012.
Professor Chávez's scholarship centers on revolution in El Salvador, with special emphasis on the coalition of urban intellectuals and peasant leaders—many of whom were inspired by the teaching and social mission of the Catholic Church—who worked together to overthrow the dictatorship in the 1970s and 1980s. He is the author of Poets and Prophets of the Resistance: Intellectuals and the Origins of El Salvador´s Civil War (Oxford University Press, 2017). His most recent articles include: "How did El Salvador Civil War End?" The American Historical Review 2015 120 (5): 1784-1797 and "Catholic Action, The Second Vatican Council, and the Emergence of the New Left in El Salvador, (1950- 1975)" in Special Issue: Latin America in the Global Sixties, The Americas, Vol. 70 Number 3: January 2014: 459-487. His current research focuses on the history of the peace process that put an end to the civil war in El Salvador.
In addition to his academic career Professor Chávez has been deeply engaged in peace and reconciliation work in his native El Salvador as well as in other hot spots including Nepal. He has presented his work in scholarly and popular venues in the United States, Europe, and Latin America alike.