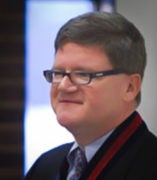 Ralph Keen, PhD
Arthur J. Schmitt Foundation Chair in Catholic Studies and Professor
History
Address:
1120 S Halsted St.
Email:
CV Download:
About
A historian of Early Modern Europe, Professor Keen works with how thinkers in one era retrieve and apply the writings of earlier figures in the tradition. In the past, his research has been concerned with the ways Reformation-era theologians drew on biblical and early-church authorities in crafting political doctrines suitable to their era. Currently he is working on Counter-Reformation Catholic authors' construction of the early church (to ca. 500) as "a Golden Age" intended as a contrast to the decline they saw in the 16th and 17th centuries.
Professor Keen has authored two books, including Divine and Human Authority in Reformation Thought and Exile and Restoration in Jewish Thought, as well as a textbook from Prentice Hall entitled, The Christian Tradition. He has also edited or compiled nine other books and written dozens of articles for a variety of books and journals.
Keen received his PhD from the University of Chicago in 1990 and an MA in Classics from Yale in 1980.