History Major Maximillian Gambony Presents Pioneering Research at Undergrad Research Forum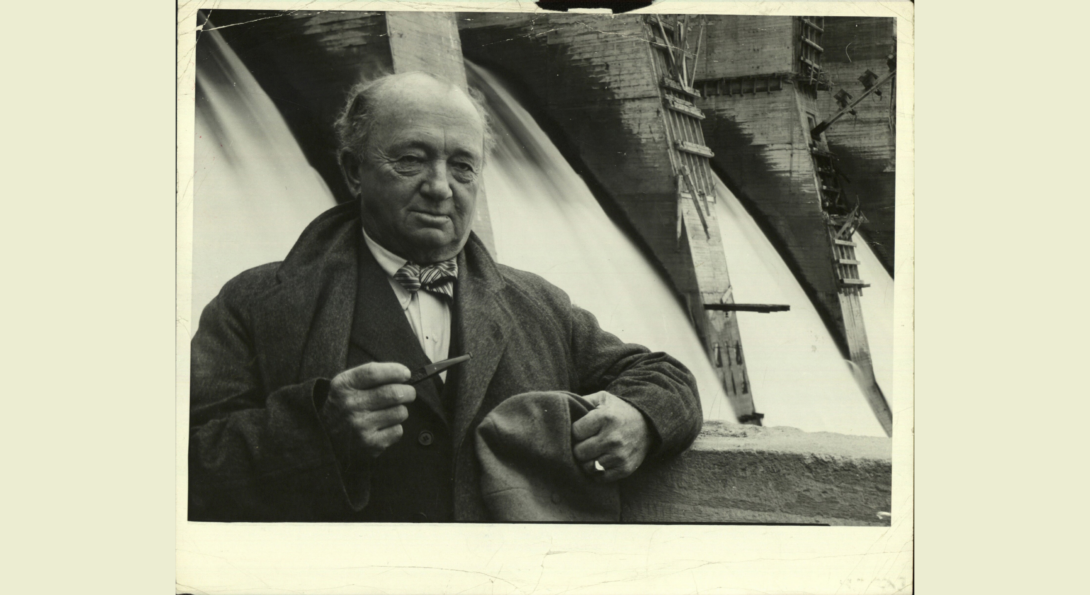 Undergraduate history major Maximillian Gambony will be presenting at the UIC Undergraduate Research Forum on Thursday, April 18th. Gambony received a scholarship through the LAS Undergraduate Research Initiative for his research project titled "Knowledge and Steel: American Involvement in Soviet Industrialization between 1927-1937." 
Gambony's advisor, Professor Marina Mogilner of the UIC History Department, noted that he is "literally the first scholar of Soviet history who has been systematically working with the Ford corporate archives to investigate the US participation in Soviet industrialization before the official establishment of diplomatic relationships between the two countries."
Gambony explains that "American involvement in the USSR is a topic that has fascinated me ever since I came across a photo of Hugh Cooper, the American Civil Engineer standing next to the Dnieper dam [photo above]." When he saw the photo, Gambony wondered: "why is this American working in the USSR and why does no one seem to know anything about it?"
When Gambony transferred to UIC in 2021, he mentioned his interest in the topic to Dr. Marina Mogilner. Dr. Mogilner encouraged him to apply for the LASURI fellowship.
"My project," Gambony says, "allows us to start to examine Soviet industrialization efforts in a proper, more globalized perspective."
In his research project and paper, Gambony  explores the role America played during the first two Five-Year plans in the USSR. He argues that the Bolsheviks looked to emulate the change that took place in the American Midwest during the late 19th century, turning a largely agrarian society into a modern industrial nation.
Gambony used his LASURI funding to work in the corporate archives of the Ford Motor Company. He asserts that these documents show the Ford corporation acting "as a state," and Soviet agents in the US making strategic choices between "technology" and "culture." The project also draws on the memoirs of Zara Witkin and John D. Littlepage, two American engineers who went to work in the USSR in the late 1920's through the mid 1930's.
See Maximillian's research poster here.
You can visit Maximillian and learn more about his research at the Undergraduate Research Forum on Thursday, April 18th at the UIC Dorin Forum, 725 W. Roosevelt Rd. Student presentations are from 12:00-2:30 p.m.
Location details:
Masking is strongly encouraged for all attendees.
All attendees will be required to undergo a metal detector check upon entry.
Bags and large purses are restricted according to the Dorin Forum bag policy. Please be sure to familiarize yourself with the policy for bags, purses, and backpacks prior to arrival.
Modified on April 10, 2023