Osofsky Lecture and Spring 2022 Accomplishments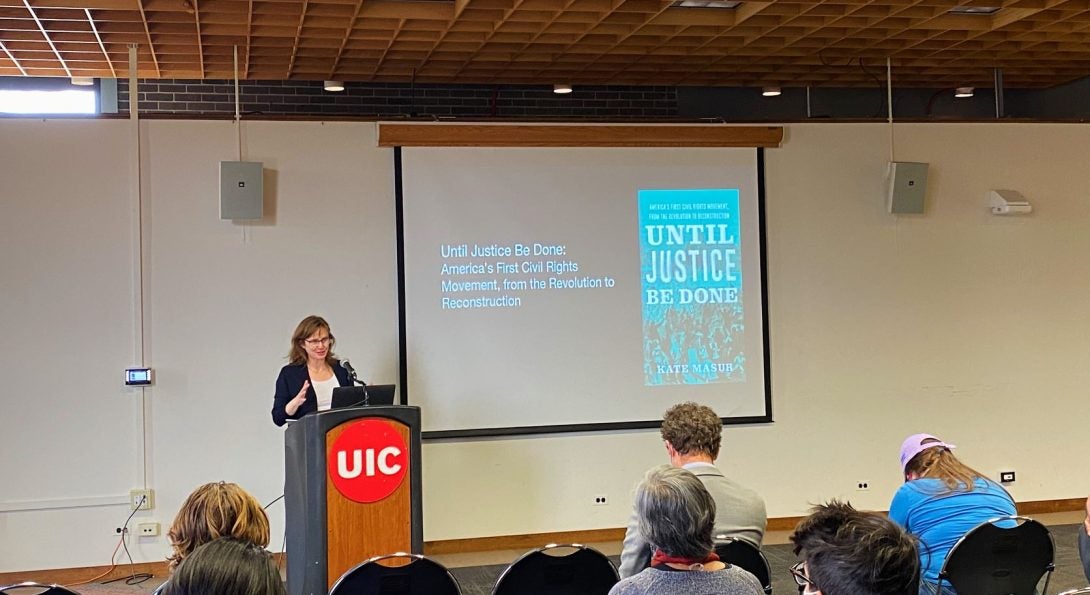 The UIC Department of History hosted its annual Gilbert Osofsky Lecture on Tuesday April 27, 2022. In addition to relishing in the company of great friends and colleagues, this event is an opportunity for the department to come together and recognize the outstanding achievements of our faculty and students. The department also invites a featured speaker each year to present a lecture on a new book project in our discipline.
Below are the award winners who were recognized at this event, but these are not the only accomplishments we're proud of. You can also find non-exhaustive list of the various accomplishments and highlights from our phenomenal students and faculty from the Spring 2022 semester.
Osofsky Featured Speaker, Kate Masur
Award Winners Recognized at Osofsky
Undergraduate student Cheyenne Otto won this year's Gordon Lee Goodman Award for Distinction in Undergraduate Studies.  Her work was selected based on a nomination by Prof. Laura Hostetler, Prof. Marina Mogilner, and Prof. Rama Mantena, and chosen by the Department's Undergraduate Advisory Committee.
Undergraduate student Ayanna Sloan won this year's The Lillian Edinger Scholarship. Several faculty members, including Prof. Laura Hostetler and Prof. Hayley Negrin, spoke on Ayanna's behalf and of their many talents.
Prof. Elizabeth Todd-Breland won the Shirley A. Bill Award for Excellence in Teaching.
Award for Graduate Research (Spring 2022): Anindita Ghosh, Katy Evans, Jose Ramirez, David Rothmund
Provost's Graduate Internship Award (Summer 2022): Joe Parziale - National Park Service, Pullman National Monument in Chicago
History Graduate Internship Award (Summer 2022): Anindita Ghosh - Banglar Manabadhikar Suraksha Manch (MASUM), a human rights NGO in West Bengal, India
History Summer 2022 Research Grants: Abdul Basheer, Meg Gravelle, Karl Kuehner, Sohini Mukhopadhyay, Sekordri Ojo, Jose Ramirez, Megan Whirley
Marion S. Miller Dissertation Fellows: Josh Hoxmeier, Sohini Majumdar
Bentley Brinkerhoff Gilbert Award: Caterina Scalvedi
History of Poland Fellowship: Frankee Lyons
Polish National Alliance Fellowship: Joanna Dobrowolska
Zukhra Kasimova won the Stephen F. Cohen-Robert C. Tucker Dissertation Completion Fellowship, Association for Slavic, East European, and Eurasian Studies.
Caterina Scalvedi was selected as a Resident Graduate Scholar at the Institute for the Humanities, UIC.
Student Accomplishments
Graduate student Sekordri Ojo was selected as one of 25-30 students to participate in a week-long international doctoral summer school for graduate students in the history of education, to be held this summer in Madrid.  This competitive program is run by the European Educational Research Association, and it's an excellent opportunity for Sekordri to discuss her dissertation project and learn from leading scholars from the US and other countries.
Graduate student Meg Gravelle was selected to participate in the Newberry Library seminar on "Trans Historical: The Many Genders of the Past."
Graduate student Jeff Nichols had an interview on the Japanese TV program, "The World to Compare."
Recent PhD grad, Huiying Chen, accepted a tenure-track job as Assistant Professor in the Department of History at Purdue University!  Huiying's 2021 dissertation, supervised by Laura Hostetler, was entitled, "On the Road in Eighteenth-Century China."
Graduate Student Alison Orton and PhD grad Julie Daly (neé Fountain), have both been active in using their skills to support the people of Ukraine. Alison has worked in archives in Ukraine and recently conducted a 30-minute interview with a brewer in Lviv, Ukraine, who became famous for switching his beer production to Molotov cocktails.  It's an interesting interview, have a listen. And Julie, who now works as a Placement Officer for the Volunteer Centre in Dublin, Ireland, is working hard to help refugees throughout Europe.  He helps run a centre and organizes the work, as demonstrated by the blog she maintains.
Michael Porter, Russell Fillmore-Brady, Jesse Connor, and Tyler Giacalone graduated with Master of Arts in the Teaching of History (MAT) degrees.
Faculty Accomplishments
Prof. Joaquín Chavez made an excellent appearance on the television channel for the Catholic journal "America," where he discussed the beatification of Salvadoran Jesuit Rutilio Grande, who in 1977 was assassinated in the buildup to the El Salvador civil war.  Grande was among the first priests killed by Salvadoran death squads and was a close friend of Saint Oscar Romero, who himself was assassinated in 1980 while serving as Archbishop of El Salvador.
Prof. Barbara Ransby was named a recipient of the Caribbean Philosophical Association's Frantz Fanon Lifetime Achievement Award.  This is a testament to Barbara's excellent body of work, which the awards committee cited specifically, bestowing the award "because of the historical and political importance of her writings, her tireless work as an institution-builder and activist, and the integrity she brings to every project in which she is involved."  She shares this year's award with Angela Davis and Boaventura de Sousa Santos.
Prof. Michael Jin was part of a professional development workshop for grade 6-12 teachers on Japanese incarceration and the teaching of Asian American history, sponsored by Facing History & Ourselves.
Postdoctoral Fellow Ivón Padilla-Rodríguez was featured in a Bridge-to-Faculty event where she spoke on "Latinx Youth Migration and the Rights of Childhood in Twentieth-Century America."
Prof. Kirk Hoppe won a Fulbright. As part of the Fulbright Scholars program, Kirk will spend next fall at the University of Iceland in Reykjavik.  Alongside his duties doing cross-cultural work, he will also be doing research for his current project of African migration to Europe.
Prof. Adam Goodman was invited to spend a year as a research fellow at Stanford University's prestigious Center for Advanced Study in the Behavioral Sciences.  Along with the normal duties of a research fellow, Adam will work on a project exploring how US immigration policies since 1965 have increasingly left people in a precarious, often prolonged, state of limbo—from undocumented immigrants living under threat of expulsion and people stuck in detention, to asylum seekers waiting as their cases wind their way through labyrinthine bureaucracies and individuals with provisional protections such as Temporary Protected Status (TPS) or Deferred Action for Childhood Arrivals (DACA) that can be stripped away at a moment's notice.
Prof. Emeritus Leon Fink discussed his new book, Undoing the Liberal World Order: Progessive Ideals and Political Realities Since World War II, over zoom with the Wilson Center and the National History Center.
Postdoctoral fellow, Dr. Ivón Padilla-Rodríguez, won the 2022 Bancroft Dissertation Award from the Graduate School of Arts and Sciences at Columbia University!  The award is given annually to an outstanding Columbia dissertation in American history, diplomacy, or international affairs.
Prof. Young Richard Kim, helped orchestrate this semester's "Homer-athon," featuring a full reading of Homer's "Odyssey" to celebrate the re-opening of the National Hellenic Museum. His triumph is featured on WGN-TV News.
Student and Faculty Publications
January 2022
February 2022
March 2022
Postdoctoral Fellow, Ivón Padilla-Rodríguez, has a chapter coming out in a now-available-for-preorder collection entitled The North American West in the Twenty-First Century.  Ivón's chapter is entitled, "'A Violation of the Most Elementary Human Rights of Children': The Rise of Migrant Youth Detention and Family Separation in the American West."
Associate Dean and Professor at the UIC School of Law and one of our own affiliated faculty, Teri McMurtry-Chubb, published an article in The University of Memphis Law Review entitled, "The Rhetoric of Race, Redemption, and Will Contests: Inheritance as Reparations in John Grisham's Sycamore Row."
Jochen S. Arndt, a 2015 PhD of ours and currently Assistant Professor of History at the Virginia Military Institute, published Divided by the Word: Colonial Encounters and the Remaking of Zulu and Xhosa Identities (Charlottesville, Virginia: University of Virginia Press, 2022).
April 2022
Graduate Student Polina Popova published a fascinating post about children's literature from 1930s Ukraine on the Princeton University Library's blog.
May 2022
Modified on May 18, 2022