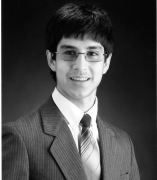 Ismael Biyashev
Graduate Student
History
About
I am a sixth-year PhD Candidate in Russian Imperial and Early Soviet History. My broad research interests include the history of empires, intellectual history, and the history of science, specifically archaeology.
My dissertation project, tentatively titled  Beyond Myths and Ruins: Archaeology and Nomadism in Russia (1850-1925) is the first attempt to write a history of the archaeology of nomadism in the Russian empire and the early Soviet Union and chart its historical development.  How did the context of the rapidly nationalizing and modernizing Russian Empire of the late 19th and early 20th century contribute to the sudden and intense interest in nomadism as a theoretical and political problem? Why did period actors from all walks of life and with varying political views so readily appeal to nomadic archaeology to justify sociopolitical agendas? How did the public and scholarly image of nomadic peoples and nomadism as amorphous, fluid and pliable mesh with the discourse and praxis of archaeology, a science built upon searching for "objective" material evidence? How did this paradox influence the understanding of contemporary nomadism? What made nomadic archaeology appealing to period actors as a way of expressing both alternative and explicitly anti-imperial [national] political claims? How did practitioners of nomadic archaeology, their ideas, practices, etc.,  interact with others in the early USSR and late Russian Empire? These are the kinds of questions which structure my dissertation project.  I am completing this project under the supervision of Prof. Marina Mogilner and Prof. Jonathan Daly.
Over the years I have received several internal, external, and international fellowships and awards to assist with the completion of my research project. These include the UIC History Department's  Bentley Brinkerhoff Gilbert Fellowship (2020)  the prestigious Cohen-Tucker Dissertation Research Fellowship from the Association for Eastern European and Eurasian Studies [ASEEES] (2019) the Provost's Graduate Research Award (2018)  from UIC's Graduate College and the University of Illinois at Chicago University Fellowship (2015). In the summer of 2017, with support from the Higher School of Economics [HSE- St Petersburg] and the Mikhail Prokhorov Foundation, I served as the Associate Visiting Scholar in the Department of History of the Higher School of Economics in St. Petersburg, Russia.   
TEACHING EXPERIENCE
As part of my University Fellowship I have held a 50% Teaching Assistantship appointment in the second and third years of my Fellowship (2016-2017 and 2017-2018). Responsibilities for all classes listed included preparing lectures and developing exams and other assessments as well as conducting weekly discussion sections. I have served as TA for both introductory [100-level] and Intermediate [200-level] courses in Global History, as well as Russian Imperial and Chinese Imperial history.
Education
MA: (History) 2017 University of Illinois at Chicago (UIC)
BA: (History/Philosophy) 2014 DePaul University
RESEARCH LANGUAGES:
Russian (Fluent) English (Fluent) and French (Fluent) Ukrainian (Advanced, Reading) Polish (Intermediate, Reading), Kazakh (Intermediate, Reading)
Selected Presentations
October 2019. Higher School of Economics – Moscow "Nation? Region? Province?: Uranhai [Tuva] in the Political Imagination of the Siberian Regionalists."
September 2019. UIC Brownbag Lecture "Beyond Myths and Ruins, Archaeology and Nomadism in Late Imperial and Early Soviet Russia (1850-1925)"
July 2019. School of Advanced Studies – Tyumen, "Cities Living and Dead P.K. Kozlov and the Discovery of Khara Khoto
June 2019. ASEEES Summer Convention Talk "Alexandra Potanina's Ethnographic Drama of the XVI Century – a reexamination"
June 2018. Higher School of Economics – St Petersburg "Cities Living and Dead: Archaeology and Nomadism in Late Imperial and Early Soviet Russia"
November 2017. ASEEES Convention Talk: Genghis Khan's Moving Capital: Nikolai Yadrintsev's 1889 Orhon Expedition and the Discovery of Karakorum
February 2016. Seminar in Eastern Europe and Northern Eurasia Crosstalk [SEENEXT]. Threads of Empire: Identity and Authority Where Europe Met Asia 1500-1917 [Discussant] [Presenter: Dr. Charles Steinwedel, NEIU]