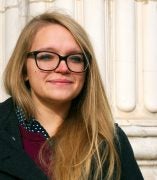 Joanna Dobrowolska
Graduate Student
History
Office Hours
Office Hours - Fall Semester
| | | |
| --- | --- | --- |
| Sunday | | |
| Monday | 10:30am – 11:30am | |
| Tuesday | | |
| Wednesday | 10:30am – 11:30am | |
| Thursday | | |
| Friday | | |
| Saturday | | |
About
Joanna Dobrowolska is a Ph.D. student interested in ethnic conflict and genocide. She is particularly fascinated by moments when relations between neighboring communities dissolve into violence. Having spent her childhood in Poland, Joanna is fluent in Polish and therefore decided to focus on ethnic clashes in Poland during the interwar period and World War II. Her time studying Ukrainian and doing archival research in Lviv, Ukraine has helped shape her research interests. In her MA thesis, she explored the impact of antisemitic rhetoric and politics on relations between Poles and Jews in the Masovian Voivodeship in interwar Poland.
Education
BA, History at Utah State University, December 2015
MA, History at Utah State University, May 2018\
Courses Taught:
Fall 2019 Teaching Assistant, Western Civilization Since 1648 (Taught by Michał Wilczewski)
Spring 2019 Teaching Assistant, History of Poland (Taught by Keely Stauter-Halsted)
Fall 2018 Teaching Assistant, Western Civilization Part I (Origins of the West) (Taught by John Abbott)
Research Currently in Progress
Joanna's research interests center around Polish-Jewish-Ukrainian relations in interwar Lviv and Eastern Galicia and the impact of interwar nationalism and the outbreak of World War II on those relations.