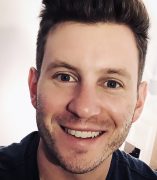 Rick Elliott
Graduate Student
History
Office hours
Office Hours - Fall Semester
| | | |
| --- | --- | --- |
| Sunday | | |
| Monday | 03:00pm – 04:00pm | |
| Tuesday | | |
| Wednesday | 03:00pm – 04:00pm | |
| Thursday | | |
| Friday | | |
| Saturday | | |
About
Rick Elliott is a doctoral candidate in the History Department working with Jeff Sklansky. As a historian of capitalism, Elliott studies the development of the financial system in the United States and its role in shaping our modern society. He is particularly interested in how the banking system generates and reinforces economic inequality along lines of class and race. His dissertation, "The Business of Silver and Gold: Comstock Mines, California Finance, and the Production of Money in the Gilded Age American West," explores how capitalists and bankers in Gilded Age San Francisco seized control of mining operations through the region, harnessing the nation's production of silver and gold to enhance their own production of money within the era's burgeoning financial system. In the process, they spurred important transformations in the realms of money and finance, laying some of the groundwork for the development of American capitalism through the end of the nineteenth century. Like most historians, Elliott is also at work on a number of disparate, unfinished projects on topics ranging from marine hospitals in the early republic to the United States Geological Survey and economic history of Christmas in twentieth-century America.
Notable Honors
2018-2019, Marion S. Miller Dissertation Fellowship, UIC Department of History
2017-2018, Arthur J. Quinn Memorial Fellowship, University of California-Berkeley
2017-2018, Huntington Library Short-term Research Fellowship, Huntington Library
2017, Provost's Award, UIC Graduate College
Education
M.A. History, University at Buffalo, 2013
B.B.A. Economics, Loyola University Chicago, 2011
B.A. History, Loyola University Chicago, 2011
Research Currently in Progress
19th-century United States History; History of Capitalism; History of the American West.