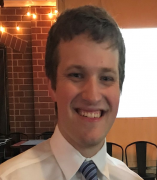 Tyler Giacalone
Graduate Student
History
Pronouns: he/him/his
About
I have worked extensively in political organizing for the last 8 years. After experiencing my love of teaching others, I decided to pursue my degree with UIC's MAT program and learning more about historical study I enjoy and how to relay a love of history to my future students.
Selected Publications
Giacalone, Tyler, et al. "Waste Management Symposiums." Waste Management Symposium, Controversial Projects and Potential Implications for the Consent-Based Siting of Nuclear Waste Management Facilities – 17345, 8 Mar. 2017.
Education
BA in Public Management, Leadership, and Policy from The Ohio State University
Research Currently in Progress
Research interests: European History, Secondary Education, United States Political History