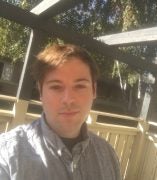 Franklin Howard
Graduate Student
History
Pronouns: they/them/theirs
Office Hours
Office Hours - Fall Semester
| | | |
| --- | --- | --- |
| Sunday | | |
| Monday | | |
| Tuesday | | |
| Wednesday | | |
| Thursday | | |
| Friday | 11:00am – 12:00pm | |
| Saturday | | |
About
I came to Chicago by way of Las Vegas, Nevada. Though a Midwest native, I moved West to pursue a Master's at UNLV in 2014. Over the last six years, I've tried my hand at a little bit of everything. For example, I worked as an archivist for both UNLV's Special Collections and the Las Vegas News Bureau and managed the office for the Southwest Oral History Association. I am also an active member in Phi Alpha Theta, an organization that has helped me in so many ways. My research interests include LGBTQ+ history, the AIDS Crisis, popular culture, and the history of disease and illness.
Selected Publications
"I was a nigger, still": Black and White Bodies in the Gay Art of the Twentieth Century," Psi Sigma Siren: Vol. 8: Iss. 2, Article 2. (2015)
http://digitalscholarship.unlv.edu/psi_sigma_siren/vol8/iss2/2
"Upgrading the Closet: Pulp Fiction and the Gay Man's Quest for Space in American Society, 1949-1969," Perspectives in History 29, no. 1 (2013-2014): 24-31.
Notable Honors
2020, History Doctoral Award Grant, UIC History Department
2015, Robert and Anita Hulse Foundation Scholarship, UNLV History Department
2015, 2016, Jerry Kalafatis Lodge Scholarship, UNLV History Department
2014, Walter Pengrey Rogers Award, UNLV History Department
Education
Master of Arts in American History (Minor Field: Public History), University of Nevada Las Vegas (May 2018)
Thesis: The Only People Who Get AIDS—Are People: The AIDS Crisis in Mainstream Comic Books, 1981-1995
Bachelor of Arts in History (Minors: Public History and Museum Studies, Asian Studies), Ohio Northern University (May 2014)
Courses Taught:
As Adjunct Professor:
African American History, 1877-Present, Oakland Community College
As Teaching Assistant:
U.S. History from Industrialization to Modernization, University of Illinois at Chicago
Hitler and Constitutional Breakdown, University of Nevada
History of Sexuality in Multicultural America, University of Nevada
Prison Management Certification Program's American Government, Ohio Northern University
Professional Memberships
Phi Alpha Theta
Phi Beta Delta
Southwest Oral History Association
Oral History Association
Committee of Lesbian, Gay, Bisexual, Transgender History of the OAH
Organization of American Historians
American Historical Association
Research Currently in Progress
The AIDS Crisis in American pop culture
U.S. and Canadian AIDS activism
Memory of Stonewall Inn Riots and Pride events