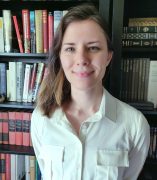 Laura Kaczmarczyk
Graduate Student
History
About
Laura is a second-year MAT student (entered in Fall 2018).
Advisor: Robert Johnston
Writing center tutor FA 2015-SP 2017, FA 2019-current.
Graduate assistant in Philosophy June 2020-current.
Research assistant in UIC Library Special Collections August 2019-January 2020.
Notable Honors
May 2020, Public Service Graduate Internship Award, UIC
Education
B.A. from University of Illinois at Chicago (UIC), 2017.
M.A.T. (UIC) expected Spring 2021.
Courses Taught:
UIC, HIST 101: Western Civilization since 1648, SP 2020. (TA)
Research Currently in Progress
Research Interests: Teaching European and World History topics including Enlightenment philosophy,  French Revolution, Revolutions of 1848, German/Italian Unification, and Cold War history.
Exams: Modern Europe, Teaching of History, Education.