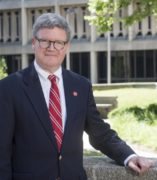 Ralph Keen, PhD
Professor and Arthur J. Schmitt Foundation Chair in Catholic Studies
History (Early Modern Europe, Catholic, religious, intellectual)
Contact
Address:
1120 S Halsted St.
Email:
CV Download:
About
Ralph Keen, professor of history and president (2018) of the American Society of Church History, is a historian of early modern Europe, specifically the Protestant Reformation and Early Modern Catholicism, and even more specifically the ways those movements appropriated the classical and patristic traditions. His work has appeared in Martin Luther in Context (Cambridge 2018), The Oxford Encyclopedia of Martin Luther (2017), Harvard Theological Review (2017), and elsewhere, and he is an editor of the monograph series Catholic Christendom 1300-1700, published by Brill.
Professor Keen has authored two books, including Divine and Human Authority in Reformation Thought and Exile and Restoration in Jewish Thought, as well as a textbook from Prentice Hall entitled, The Christian Tradition. He has also edited or compiled nine other books and written dozens of articles for a variety of books and journals.
Keen received his Ph.D. from the University of Chicago in 1990 and an MA in Classics from Yale in 1980.