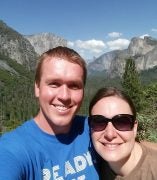 Karl Kuehner
Graduate Student
Contact
Address:
601 S Morgan St.
Email:
Office Hours
Office Hours - Spring Semester
| | | |
| --- | --- | --- |
| Sunday | | |
| Monday | | |
| Tuesday | | |
| Wednesday | 11:00am – 12:00pm | |
| Thursday | | |
| Friday | 12:00pm – 01:00pm | |
| Saturday | | |
About
Karl Kuehner is a PhD student focusing on modern American religious history. He earned a BA in history and education from Concordia University Chicago, and a MA in history from the University of Chicago. Karl taught history at the middle and high school levels in and around Chicago for ten years prior to entering the PhD program at UIC in the fall of 2018. His research explores the intersection of religion and capitalism in the 20th century and is being directed by Kevin Schultz and Robert Johnston. He currently lives west of the city in Berkeley with his wife and three rambunctious boys.
Notable Honors
2018-2022, History Doctoral Award, University of Illinois at Chicago
2013-2017, MAPSS Sscholarship, University of Chicago
2005, Inducted into Phi Alpha Theta, Concordia University Chicago
2002-2007, Presidential Scholarship, Concordia University Chicago
Education
Concordia University Chicago: B.A. – Secondary Education, History (2007)
The University of Chicago: M.A. – History (2017)
Courses Taught:
As Adjunct Professor:
HIST 150: "History of the American People"
ENG 110: "English Composition"
As Teaching Assistant:
HIST 246: "History of American Capitalism"
HIST 104: "Modern America: From Industrialization to Globalization"
HIST 105: "Global Transformations and the Rise of the West Since 1000"
HIST 101: "Western Civilization Since 1648"
Selected Presentations
"'Aunt Tom': Phyllis Schlafly and the Case Against the ERA" Paper presented at Loyola University History Graduate Student Association Conference, November, 2018.
"Modern Warriors: Jerry Falwell, The New Christian Right, and the Experience of Modernity" Paper presented at the Religions in American Workshop, University of Chicago Divinity School, September 2017
Research Currently in Progress
My research explores religion's evolving relationship with and within modernity in twentieth-century America. This theme has led me down two particular paths of historical and theoretical inquiry. The first is the emergence of the New Christian Right as a potent force in American politics during the 1970s. My work explores how members of the NCR and their allies lived, as Marshall Berman puts it,  "the experience of modernity," grappled with the broader secularizing currents in American culture, and how they built organizations and rhetorics to resist those transformations. Through this process, the NCR reshaped the landscape of American conservatism and American religion. My other area of academic interest is the relationship between capitalism and Christianity during the Great Depression. In particular, my work seeks to understand how the most significant crisis in the history of modern capitalism shaped Christians attitudes and actions with regard to the economic order that not only structures nearly every aspect of life but also raises distinct moral and spiritual questions. My dissertation will focus on Chicago as a case study for how religious Americans experienced and made sense of economic collapse.
Exam Fields (Spring 2020):
Major: Colonial and Modern United States
Minor: Religion in North America (With Distinction)
Minor: Europe Since 1789