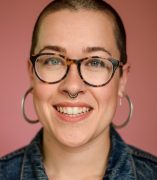 Ellen Mayer
Graduate Student
History
Pronouns: she/her/hers
About
After graduating from Tufts University with a BA in American Studies, Ellen spent five years working in local journalism and radio/podcasting in Chicago. Specifically, she specialized in local history, politics, and civic education. Among other outlets, she worked as a reporter for WBEZ's Curious City, politics editor for South Side Weekly, and executive producer for the Hoodoisie. She also worked as a consultant for newsrooms around the world, training their reporters to be more effective at audience collaboration and engagement.
Motivated by her love of teaching and her desire for a deeper, more reflective view of history than journalism allows, Ellen is now transitioning careers via the MA History program at UIC. As a researcher, she is interested in the urban history of Native Americans.
Ellen plans to make her career as an educator at the intersection of public history and adult learning, especially in the community college setting. She is currently the research assistant for professor Jennie Brier's digital exhibition
I'm Still Surviving: A Living Women's History of HIV/AIDS
. 
Brooklyn born but Chicago loyal, Ellen has a lot of thoughts about bagels, bridges, and gentrification and would truly love to discuss them with you. She can be found walking her dog at the lake in Rogers Park.
Selected Publications
(with Quinn Myers) "The Ward Organizations: Burning and building bridges in the race for alderman in the 25th Ward." South Side Weekly, February 13, 2019.
"After The Trial: A legal toolkit for prisoners and their loved ones," City Bureau, 2018.
"Of Real Estate & Religion." WBEZ's Curious City, October 22, 2014.
Education
B.A. American Studies, Tufts University, May 2014
Research Assistant to Jennifer Brier, History Moves
Selected Presentations
"The Power of Civic Curiosity," SPJ Journcamp, Indianapolis, IN, 2017.
"There's No Such Thing as an Audience," People-Powered Publishing, Chicago, IL, 2016 (co-presented with Jennifer Brandel).
Voter Education Workshop: "Amor en el Tiempo de Elecciones," City Bureau and El Foro Del Pueblo, Chicago, IL, 2019.