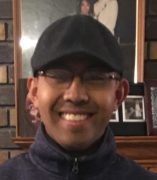 Mark Briones Medrano
Graduate Student
History
Pronouns: he/him/his
Contact
Building & Room:
University Hall
Address:
601 S. Morgan St.
Email:
About
Mark Medrano is a Chicago native, the son of Filipino immigrants. Raised on the Northwest Side of the city, he often visited his local library to read books on various subjects such as World War II and ancient Egyptian civilization. Prior to pursuing an undergraduate degree in history, he initially sought to pursue a career in screenwriting.
After graduating from UIC, Mark decided to take a couple of government jobs; he enlisted in the Army Reserve ten days after finishing his bachelor's, and also worked as a passport clerk for the Department of State shortly before going back to UIC for graduate school. Mark even decided to pick up a commission from the University's ROTC program while taking graduate courses. He is currently in his last semester, as a student teacher appropriately assigned to Chicago Military Academy in the Bronzeville community.
Education
Expected completion of MAT: December 2020 (Advisor: Robert Johnston)
Graduate Certificate in Digital Public Humanities (George Mason University, 2020)
Bachelor of Arts in History (Concentration in Eastern Europe), minor in Anthropology (University of Illinois at Chicago, 2016)
Research Currently in Progress
Interreligious dialogue; Orthodox-Catholic relations; the Roman and Byzantine Empires; royal and political families; American government; the World Wars; the Second Vatican Council; Catholicism in the United States.