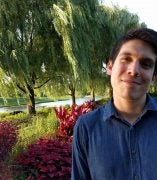 Adan Meza
Graduate Student
About
I grew up on the Southwest side of Chicago and attended Chicago Public Schools before studying at the University of Chicago. I saw history as a way to explore my cultural roots as a Mexican-American and now I hope to use it as a tool for advocacy. My love for teaching developed during my time in the Neighborhood Schools Program where I tutored primary school students. In 2015, I became the debate coach and head tutor at King College Prep before going abroad on a Fulbright in 2017. Before starting my MAT program in the Fall of 2019, I finished working as a student advocate at Malcolm X college under GEAR UP. I am now sponsored by Grow Your Own Illinois which helps students of color become students in high need areas. I hope to teach in a public school back in my neighborhood, so I can contribute back to my community.
Selected Publications
2015: "One Nation, One God, One Language: the Politicization of Castilian Identity under Franco and its Effects on Catalan Nationalism" in the University of Chicago International Studies Thesis Collections.
Notable Honors
2019, Grow Your Own Illinois Scholar Award, Grow Your Own Illinois Scholar
Education
B.A. in International Studies from the University of Chicago.
MAT in History Program expected completion: Fall 2021
Research Currently in Progress
The proliferation of racial tensions in Chicago's Marquette Park after the Civil Rights Movement.
RESEARCH INTERESTS 
I am interested in race relations and resistance in the Southwest neighborhoods in Chicago. I also enjoy reading and viewing media about the 20th century, especially the Cold War.