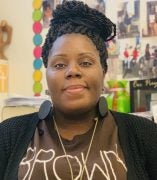 Sekordri Ojo
Graduate Student
History
Office Hours
Office Hours - Fall Semester
| | | |
| --- | --- | --- |
| Sunday | | |
| Monday | | |
| Tuesday | 01:00pm – 02:00pm | Via Zoom |
| Wednesday | | |
| Thursday | 01:00pm – 02:00pm | Via Zoom |
| Friday | | |
| Saturday | | |
About
Sekordri Ojo is a doctoral student in the History Department. She was born and raised on the south side of Chicago and attended DePaul University, where she double majored in History and African & Black Diaspora studies. After graduating from DePaul, Sekordri joined Teach for America in 2014 where she taught reading and history on the south side of Chicago. Sekordri enjoys spending time with her family and her two fur babies.
Notable Honors
2011, Alpha Lambda Delta National Honor Society, DePaul University
2013, Phi Alpha Theta National History Honor Society, DePaul University
2013, MLK Student Essay Contest-Best Undergraduate Paper, DePaul University
Education
B.A in History & African/Black Diaspora Studies, DePaul University.
M.S. in Special Education, Dominican University.
COURSES TAUGHT (TA)
Women and Gender in American History - Fall 2020
History of Chicago - Spring 2020
Imagining the American West - Fall 2019
Selected Presentations
"Importance of Higher Education for Minority Students", presenter at International Summer Institute Experience C.O.E Conference- Chicago, IL, 2013.
"Access to Higher Education-McNair-International perspective", presenter at the F.A.C.E Conference at University of Plymouth-Plymouth, England, 2013.
"The Great Migration and the American Dream", presenter at Student History Conference at DePaul University, 2013.
"Future of Africa in the Global World", presenter at African Student Panel at the Ghana Telecom University, 2012.
"History as Tool to Empower Youth" presenter at the McNair Symposium at DePaul University, 2012.
"Critically Thinking to Empower Youth", presenter at the McNair Annual Conference at the University of California, Berkley, 2012.
Research Currently in Progress
Sekordri's current research examines the intellectual contributions of African American women teachers living and teaching in the southern United States during the late 19th and early 20th century.
Advisor: Lynn Hudson
RESEARCH INTERESTS: Sekordri researches how African American women have historically used education as a tool to redefine what it meant to be African American and how they created a space for African Americans (male and female) within society. Sekordri's research interest also includes the study of politically and socially organized forms of African American women resistance against racial power structures and institutions within the United States, particularly during the late 19th and early 20th century.