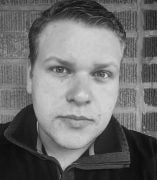 Michal J. Wilczewski, Ph.D.
Visiting Lecturer
History
Contact
Address:
601 S Morgan St.
Email:
CV Download:
Office Hours
Office Hours - Fall Semester
| | | |
| --- | --- | --- |
| Sunday | | |
| Monday | 01:00pm – 02:00pm | |
| Tuesday | | |
| Wednesday | 01:00pm – 02:00pm | Or By Appointment |
| Thursday | | |
| Friday | | |
| Saturday | | |
About
Michał J. Wilczewski is a historian of modern East-Central Europe with a geographic focus on Poland. His current book project entitled Broken Land: Everyday Life and the Legacies of Imperialism in the Polish Countryside, 1914-1939 traces the daily activities of rural people in Poland in the years leading up to the Second World War as they rebuilt the countryside and helped shape the fledgling state. Focusing on ordinary farmers' everyday experiences—in their homes, fields, schoolhouses, and community centers—Broken Land explains how interwar Poland's rural dwellers experienced their transition from being imperial subjects to becoming citizens of a nation-state following the Great War. In it, Wilczewski analyzes how Poland's villagers perceived of their national identity, their relationship to the state and one another, and their plans for the future of the countryside. Ultimately, the book argues that the rise of a national rural civil society, one that transcended former imperial bounds, was central to the development of Polish rural nationalism.
More recently, he has also begun researching a new project tentatively entitled, Sex in the Time of Sanacja: Debates about Morality in Interwar Poland. A history of morality, Sex in the Time of Sanacja traces the changing discourses concerning pornography, marriage and the family, homosexuality, and prostitution in the nascent Polish state. It traces the liberalization of sexuality in the country at the same time that Poland's political arena was turning increasingly right-wing and asks how a relaxation of law and attitudes toward such issues could happen at all.
At UIC, Wilczewski teaches both halves of Western Civilization, World History since 1400, the History of Modern East-Central Europe and the Balkans, the History of Poland, and the Senior Writing Seminar. He also frequently teaches a course called Chicago and the World for the UIC Global Program. Wilczewski is the recipient of a 2013-2014 Fulbright IIE Student Research Grant and a 2017 Honors College--Graduate College Excellence in Undergraduate Mentoring Award.
Education
Ph.D.: University of Illinois at Chicago, 2017
M.A.: Michigan State University, 2011
B.A.: La Salle University, 2009
Professional Memberships
American Historical Association
Association for Slavic, East European, and Eurasian Studies
Polish Studies Association