PhD Student Liliana Macias Leads Teach-In about Latina Political Organizing in Pilsen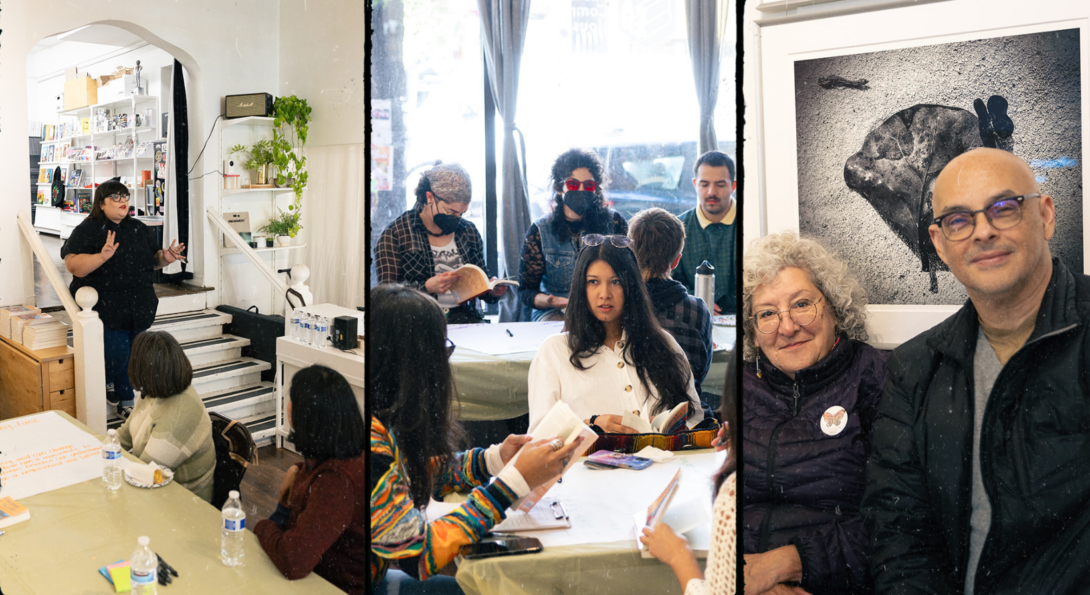 On October 7th, PhD student Liliana Macias ran the first meeting of teach-in series called "Pilsen Latina Legacies," part of the Chicago Monuments Project.
The Chicago Monuments Project aims to address the city's unacknowledged histories. One of the eight projects will highlight histories of Latinas in the Pilsen neighborhood through monuments and education. Utilizing the concept of teach-ins, a gathering of people interested in expanding their knowledge about a topic that is often marginalized, Pilsen Arts and Community House is hosting three teach-ins titled Pilsen Latina Legacies.
Pilsen Latina Legacies leads participants in exploring the histories of Latinas political organizing to understand the powerful impact they made in Pilsen, as well as larger questions about how leaders are memorialized and why in the case of Latinas, of which some were also part of the LGBTQ+ community, are often left out of the public memory despite their integral role in shaping Chicago histories. The teach-ins are moderated by Liliana Macias, a Chicago raised queer DACAmented public historiadora pursuing her Phd in history at the University of Illinois Chicago.
The teach-ins include local artists who will engage participants in reflecting and celebrating the legacies of Latinas in Pilsen through art, while also having the unique opportunity to share their input in the planning and creation of an upcoming monument that will honor these Latinas.
The first of the three teach-ins (on October 7) focused on Chicanas and Latinas as Champions of Change. Participants discussed the book Chicanas of 18th Street: Narratives of a Movement from Latino Chicago by Leonard G. Ramirez.
After the discussion, Marimacha Monarca Press, a queer & trans people of color collective of artists and educators based on the southside of Chicago since autumn 2017, led participants in a zine making activity.
Location: Pilsen Art and Community House (1637 W 18th St, Chicago, IL 60608)
Upcoming teach-ins will be Saturday, October 21st & Saturday November 4th
Learn more at: https://www.pilsenartscommunityhouse.org/workshops
Details on November 4th Teach-In:
The final teach-in will be a unique knowledge and histories sharing platica with the living legacies of the book Chicanas of 18th Street. Joining us is Maria Gamboa, Laura Paz, Victoria Perez and Cristina Vital. The Chicanas will share their histories of organizing and consejos on how to continue to advocate for our communities.
We will also hold space to remember the Chicanas who are unable to be with us; Isaura Gonzalez and Magda Ramirez-Castaneda whose legacies live on with us in spirit.
While supplies last we will be giving away FREE copies of the book Chicanas of 18th Street to participants who attend the event.
After the platica, join us for a small reception from 5pm-7pm at Pilsen Art and Community House, a block away at 1637 W 18th St., where we will have light refreshments and music from artist and DJ LaDancyNancy.