WRGUW
Work, Race, and Gender in the Urban World (WRGUW) Program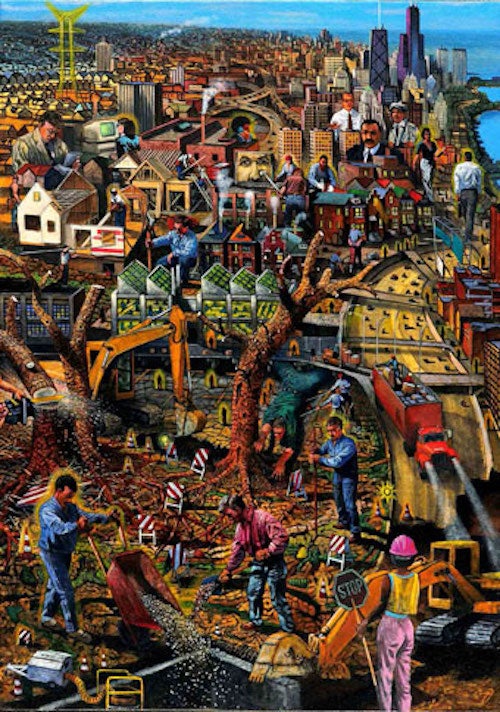 The UIC Department of History is pleased to invite applications for its Ph.D. concentration in the History of Work, Race, and Gender in the Urban World (WRGUW). Taking advantage of an uncommon gathering of scholars with overlapping interests and the unmatched resources of Chicago, WRGUW (pronounced "argue") offers students a foundation in labor, immigration, and political economy; race and African-American history; and/or gender, women's and gay and lesbian history. We have a broad understanding of these topics too, expanding our offerings into ethnicity and religion, as well as the history of capitalism. In addressing these themes we intend at once to connect the issues of our own day to their historical antecedents and to widen our appreciation of human possibility by exploring paths both taken and not taken. As a matter of practice, it is worth noting that many of our students have adopted projects of social or cultural history "with the state left in," that is, they are trying to reunite the "political" with other strands of historical imagination.
Framed initially around a modern U.S. history core, the program nevertheless encourages all students to take a trans-national perspective on its core themes. To this end, among the minimum of three graduate colloquia offered within the concentration, at least one treats a topic in comparative or international scope. The two required minor fields for concentrators must be distinct in time and/or place from the major field. In addition to their department-based course requirements, WRGUW concentrators entering with a BA must satisfactorily complete four WRGUW-related courses, while those entering with an MA must complete three such designated courses.
Among participating faculty and students alike, we are committed to building a supportive but critical community of colleagues. The regular "Wednesday Brown Bag," for example, offers a forum for new work by departmental faculty and graduate students. At a more convivial level, "First Fridays" gathers WRGUW students, faculty, and friends in informal conversation.
WRGUW Application Process
Students applying to the WRGUW concentration must follow departmental application procedures and must specify that they are applying to WRGUW.  Note the December 15 deadline.
WRGUW Rules and Regulations
Matriculation and good standing in WRGUW is a fairly simple and flexible process. Students entering with a BA must complete 4 WRGUW-themed colloquia (usually identified with a HIST 593 label) in addition to other departmental requirements; those entering with an MA must complete 3 such courses. In addition, we strongly recommend that at least one of two required minor fields encompass a trans-national theme. When a student is taking a research seminar; s/he should enroll in only one other course that semester; otherwise the normal, anticipated course load is three graduate (500-level) courses per semester. For further Ph.D. requirements, students should consult the Degree Requirements on the Ph.D. page. Other than that, we take for granted the student's active participation in the life of the department!
Participating History Department Faculty
Sample WRGUW Graduate Colloquia Offerings
History of the Civil Rights Movement
Gender and the State; Comparative Feminism; Cities and the History of Medicine
U.S. Women's History
History of the Body
Caribbean Labor Systems — Slavery to Free Labor
U.S. Labor; Immigration History and Global Labor; Work and Occupational Politics
Race and Working-Class History; Race – An Intellectual History
Slavery in the Atlantic World; Labor; Race, and Citizenship in Urban Africa
Citizenship and Suffrage in U.S. & European History
Sexuality, Power, and Politics; Sexuality, the City, and Social Change
Business, Technology, and the State
Food and Famine in History
American Indians in the Twentieth Century
Cultural Theory for Historians
Science, Race, and Sexuality
Social Movements of the 1960s
Kevin M. Schultz
Chair and Director of WRGUW Program