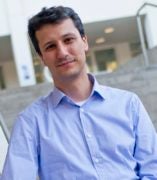 Paris Papamichos Chronakis
Lecturer
Classics and Mediterranean Studies
Contact
Building & Room:
University Hall
Address:
601 South Morgan St.
Office Phone Voice:
Email:
CV Download:
About
Paris Papamichos Chronakis, (Ph.D., University of Crete, 2011; MA in Comparative History, University of Essex, UK, 1998; BA Aristotle University of Thessaloniki, Greece, 1996), is Lecturer in Modern Greek History at the University of Illinois at Chicago. His research focuses on the history of the port cities of the Eastern Mediterranean and his manuscript in progress narrates the passage of Salonica from the Ottoman Empire to the Greek nation-state by bringing together the interrelated histories of Sephardic Jewish, Greek Orthodox, and Muslim entrepreneurial elites. In January 2017, he initiated the collaborative digital humanities project "Bonds of Survival: Reconstructing the Social Networks of Shoah Survivors." This online database will classify the social networks of Salonican Jews in the concentration camps and in hiding and create manipulable digital graphs, thus allowing historians to reconstruct the social world of the Greek Holocaust from the bottom up while also identifying the determinants of social trust.
With Antony Molho and Eyal Ginio, Paris Papamichos Chronakis has co-edited and contributed to a special issue of Jewish History Journal on the history of the Jews of Salonica which appeared in December 2014. He has written on interwar Zionist youth cultures in Greece; Zionism as a localized identity; Greek anti-Zionism and antisemitism; Greek Jewry in the First World War; the uses and performances of Greekness among concentration camp Jewish prisoners; and the theoretical implications of digital history and social networks analysis for Holocaust Studies. At UIC Paris Papamichos Chronakis teaches courses on Modern Greek History and Culture, the Modern Mediterranean Cities, Classical Tragedy and its reception, and Fascism and Authoritarianism in Southern Europe and the Mediterranean.
Selected Grants
Institute of International Education (IIE), Stavros Niarchos Greek Diaspora Fellow, Fellow
Greek State Scholarships Foundation, Greek State Scholarships Foundation, Post-Doctoral
Alexander S. Onassis Foundation, Alexander S. Onassis Foundation Grant, Fellow
Professional Memberships
He was member of the scientific committee designing the Database of Greek Jewish Holocaust Survivors' Testimonies (2011-2014), and has organized international conferences on the Jews of Salonica (International Hellenic University, 2012), the Eastern Mediterranean middle classes (European University Institute, Florence, 2008) and Jewish Commercial Cultures (together with Constanze Kolbe, Indiana University Bloomington, 2015).