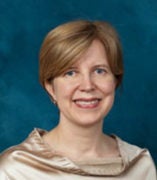 Astrida Orle Tantillo, PhD
Dean of the College of Liberal Arts and Sciences and Professor
History
Contact
Address:
601 S. Morgan St.
Office Phone:
Email:
CV Download:
Related Sites:
Selected Publications
"The Catholicism of Werther." German Quarterly 81 (2008): 408-23.
"Werther, Frankenstein, and Girardian Mediated Desire." Studia Neophilologica 80 (2008): 133-43.
"Damned to Heaven: The Tragedy of Faust Revisited." Monatshefte, 99 (2007): 454-468.
"The Subjective Eye: Goethe's Farbenlehre and Faust" in The Enlightened Eye: Goethe and Visual Culture. Ed. Evelyn Moore and Patricia Simpson. Amsterdam: Editions Rodopi, 2007. 265-77.
Education
PhD, University of Chicago
Research Currently in Progress
Major Interests:
Goethe; 18th-century literature, culture, and history of science