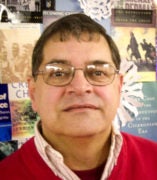 Renato Barahona
Professor Emeritus
History
About
Professor Barahona taught Spanish and Early Modern European history at UIC until his retirement in 2010.
His research is centered on Spain during the ancien régime. His first book, Vizcaya on the Eve of Carlism: Politics and Society, 1800-1833 (University of Nevada Press, 1989) , examined the origins and background of the First Carlist War in the Basque Provinces. With a shift in focus, his second book, Sex Crimes, Honour and the Law in Early Modern Spain: Vizcaya, 1528-1735(University of Toronto Press, 2003), studied sexual misconduct, violence against women, and the litigation of honor in the secular courts. In his publications he has attempted to understand a range of socioeconomic, political and cultural questions concerning the Basque populations of Spain.
He is currently at work on a book that explores the intersections of popular culture, society and women in early modern Spain (1500-1800). In particular this book analyzes local customs related to female hair, headdress and dress; social control; social and sexual interaction between female shopkeepers and male merchants; third-party participation in the commission of sexual transgressions; midwifery, medical practices and disease; and material culture and change.