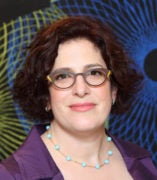 Jennifer Brier, PhD
Professor
History (recent history, US, gender, race, sexuality, public history)
Contact
Address:
601 S Morgan St.
Office Phone:
Email:
CV Download:
About
With a joint appointment in the Program in Gender and Women's Studies and the History Department, Jennifer Brier's research and teaching are largely focused on exploring the historical intersections of gender, race, and sexuality. Her first book, Infectious Ideas: U.S. Political Response to the AIDS Crisis (University of North Carolina Press, 2009) argues that AIDS provides the perfect lens through which to see the complex social and political history of the 1980s and 1990s. She substantiates this argument by detailing how activists, service providers, philanthropists, and the federal government responded to AIDS in the first two decades of the AIDS epidemic. She places the history of a successful yet complex and contentious social movement organized to deal with the AIDS epidemic in conversation with a more traditional political history of how the state dealt with this public health crisis. Finally, she links the local to the global by connecting the development of domestic AIDS policy and activism to global AIDS policy and activism.
Brier is also actively engaged in producing public history. She co-curated the award-winning exhibition, "Out in Chicago," on LGBT history in Chicago at the Chicago History Museum as well as Surviving and Thriving: AIDS, Politics and Culture, a traveling exhibition for the National Library of Medicine. Brier is currently leading a team of UIC faculty, students and staff to build a community-curated mobile gallery called History Moves that will provide a space for Chicago-based community organizers and activists to share their histories with a wide audience.  The interdisciplinary project has received funding for the National Endowment for the Arts, UIC's Institute for Policy and Civic Engagement (IPCE), Institute for Research on Race and Public Policy (IRRPP), and the Chancellor's Multidisciplinary Discovery Award.
For potential graduate students: I aim to work with one or two new students each year. My current work in public history, oral history and the history of HIV/AIDS lend itself to building collaborations with graduate students in various fields. I am most interested in engaging with graduate students who are interested in considering where History meets Gender and Women's Studies.