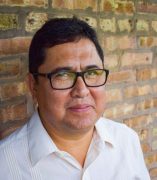 Joaquin M Chavez, PhD
Associate Professor
History (Latin America, intellectual, religious)
Contact
Address:
601 S Morgan St.
Office Phone:
Email:
CV Download:
About
Professor Chávez is a historian of Latin America with a particular focus on intellectuals, revolutionary movements, and Catholicism in El Salvador and the Cold War in Central America. He received his doctorate from New York University, where he held the Henry McCracken, Dean, and Torch fellowships.  Chávez received the Research Fellowship for Experienced Researchers from The Alexander Von Humboldt Foundation (Bonn, Germany) to write a history of the peace process that put an end to the civil war in El Salvador (1980-1992) at the Lateinamerika-Institut (LAI) at the Freie Universität Berlin.
Professor Chávez is the author of Poets and Prophets of the Resistance: Intellectuals and the Origins of El Salvador´s Civil War (Oxford University Press, 2017). The book provides a ground-up history of the polarization and mobilization that brought El Salvador to the eve of civil war. It studies trans-class political and cultural interactions between city and countryside–particularly secular and religious pedagogy–that drove the revolutionary mobilizations that anticipated the conflict.
Professor Chávez's most recent scholarly publications include: "The Cold War in Central America: Authoritarianism, Empire, and Social Revolution" in Robert Holden, Editor, Handbook of Central American History (New York: Oxford University Press, forthcoming 2020), "Operación Amor: Hippies, Musicians, and Cultural Transformation in El Salvador" in Chen Jian, Martin Klimke, Masha Kirasirova, Mary Nolan, Marilyn Young, Joanna Waley-Cohen, editors, Routledge Handbook of the Global Sixties (Abingdon, UK: Routledge, 2018),  "How Did the Civil War in El Salvador End?" The American Historical Review 2015 120 (5): 1784-1797, and "Catholic Action, The Second Vatican Council, and the Emergence of the New Left in El Salvador, (1950- 1975)" in Special Issue: Latin America in the Global Sixties, The Americas, Vol. 70 Number 3: January 2014: 459-487.
In addition to his academic career, Professor Chávez has been deeply engaged in peace and reconciliation work in his native El Salvador as well as in other hot spots including Nepal. He has presented his work in scholarly and popular venues in the United States, Europe, and Latin America alike.