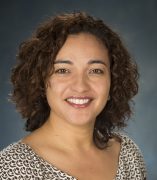 Lilia Fernández, PhD
Professor
History (US, Latino, urban, labor)
Contact
Address:
601 S Morgan St., Chicago, IL 60607
Email:
About
Lilia Fernández specializes in the history of Latinos/as/x in the mid-to-late 20th century United States. Her research interests lie at the intersection of urban history, labor and working-class politics, and economic inequality. Her first book, Brown in the Windy City: Mexicans and Puerto Ricans in Postwar Chicago, focused on the migration and settlement of these two populations in the city's central neighborhoods and the communities they formed.
More recently, Fernández has examined the history of Latinos in New Jersey. For six years at Rutgers University, she founded and led the Latino New Jersey History Project, documenting the state's diverse Latino populations through student-led oral histories and web-based public history projects. She also collaborated with the Voces Oral History Center at UT Austin to document the experiences of New Jersey's Latinos during the Covid-19 pandemic.
Her current research continues to examine Latino history in the Chicago area, focusing specifically on cross-ethnic interactions among Latinos, their labor politics, class dynamics, activism, and strategic articulations of a panethnic identity.
Before arriving at UIC, Fernández was previously Associate Professor of Latino and Caribbean Studies and History at Rutgers University, New Brunswick. Prior to that she was Assistant and Associate Professor of History at The Ohio State University. Fernández received her B.A. at Harvard University; an Ed.M. at the University of Illinois, Urbana-Champaign; and her Ph.D. at the University of California, San Diego. She servers on the boards of several academic organizations and is a series editor for the University of Chicago Press's Historical Studies in Urban America.
Selected Publications
Brown in the Windy City: Mexicans and Puerto Ricans in Postwar Chicago (University of Chicago Press, December 2012).
Editor, 50 Events that Shaped Latino History: An Encyclopedia of the American Mosaic (ABC-CLIO/Greenwood, 2018)
"Chicago's Catholic Archdiocese and a Multi-Ethnic Latino Population," in Faith & Power: Latino Religious Politics Since 1945, eds., Felipe Hinojosa, Maggie Elmore, and Sergio Gonzalez (NYU Press, 2022).
"Between Poverty and Segregation: Latino/a Students Surviving the Urban Crisis in Chicago's Public Schools" in Latina/o/x Education in Chicago: Roots, Resistance and Transformation, edited by Isaura Pulido, Angelica Rivera, and Ann M. Aviles (University of Illinois Press, 2022).
"In the Shadow of the 'Second Ghetto,'" essay commemorating the legacy of historian Arnold Hirsch, Journal of Urban History 46, no. 2 (December 2019): 500-504.
"Race Baiting, Identity Politics, and the Impact of Conservative Economic Policies on Latinos/as" Latino Studies, 16, 4 (December 2018): 524-530.
"Latino/a Immigration Before 1965: Mexicans and Puerto Ricans in Postwar Chicago" in The Latino Midwest Reader, edited by Omar Valerio-Jiménez, Santiago Vaquera-Vásquez, and Claire F. Fox (University of Illinois Press, 2017).
"Moving Beyond Aztlán: Disrupting Nationalism and Geographic Essentialism in Chicano/a History," in A Promising Problem: The New Chicana/o History, edited by Carlos K. Blanton (University of Texas Press, 2016): 59-83.