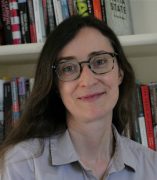 Malgorzata Fidelis, PhD
Professor and Director of Graduate Studies
History (Poland, Eastern Europe, gender, communism, the global sixties)
Contact
Address:
601 S Morgan St.
Office Phone:
Email:
CV Download:
Office Hours
Office Hours - Fall Semester
| | | |
| --- | --- | --- |
| Sunday | | |
| Monday | | |
| Tuesday | 02:00pm – 04:00pm | and by appointment |
| Wednesday | | |
| Thursday | | |
| Friday | | |
| Saturday | | |
About
Malgorzata Fidelis teaches courses on Modern Europe, Eastern Europe, Gender, and the Global Sixties. Her research focuses on social and cultural issues, particularly everyday life and the relationship between individuals and state power in post-1945 Poland. Her articles appeared in the American Historical Review, Journal of Women's History, Slavic Review, Vingtième Siècle. Revue d'Histoire, and Zeitschrift für Ostmitteleuropa-Forschung among others. Her first book titled Women, Communism, and Industrialization in Postwar Poland (Cambridge University Press, 2010; Polish-language edition, WAB, 2015) is a study of female workers and communist policies in Poland. The book's central theme explores how communist leaders and society reconciled pre-communist traditions with radically new norms imposed by the communist ideology. Her second book Imagining the World From Behind the Iron Curtain: Youth and the Global Sixties in Poland (Oxford University Press, 2022) concerns the social and cultural history of the sixties in Poland with a particular emphasis on youth and student cultures in a transnational context.
To prospective graduate students: Yes, I am currently accepting new students. I can advise a range of topics related to Eastern Europe, but my expertise is in social and cultural history with a focus on gender, youth, popular culture, everyday life, the history of communism, and the intersection of culture and politics. UIC is a unique place to study Eastern European history, and Polish history in particular, because of the extensive course offerings through the Polish Studies Program, rich collections of sources, and the large immigrant community in the city of Chicago. You are welcome to email me with any questions you might have about pursuing a graduate degree in Eastern European History at UIC.
Selected Publications
Imagining the World from Behind the Iron Curtain: Youth and the Global Sixties in Poland (Oxford University Press, 2022)
"Tensions of Transnationalism: Youth Rebellion, State Backlash, and 1968 in Poland," The American Historical Review 125, no 4 (October 2020): 1232-1259
Women in Poland, 1945-1989: Modernity, Equality, Communism (in Polish), co-authored with Katarzyna Stańczak-Wiślicz, Piotr Perkowski, and Barbara Klich-Kluczewska (Kraków: Universitas, 2020)
"Introduction," thematic cluster "Beyond the Iron Curtain: Eastern Europe and the Global Cold War," invited editor, co-authored with Theodora Dragostinova, Slavic Review 77 no. 2 (Fall 2018), 577-587
"Communism and Its Legacy," in The Routledge History of East Central Europe since 1700, edited by Irina Livezeanu and Arpad von Klimo, co-authored with Irina Gigova (London and New York: Routledge, 2017), 365-414
"Pleasures and Perils of Socialist Modernity: New Scholarship on Postwar Eastern Europe," Contemporary European History 25 no. 4 (2016):1-12, doi:10.1017/S096077731600031X
"Jugend, Moderne und the Welt. Die polnische Jugend an der Schwelle der Long Sixties. Historische Betrachtungen," invited article in Nouvelle Vague Polonaise? Auf der Suche nach einem flüchtigen Phänomen der Filmgeschichte, edited by Margarete Wach (Marburg: Schüren, 2015), 80-100

"The Other Marxists: Making Sense of International Student Revolts in Poland in the Global Sixties," invited article for a thematic issue on Fear and Fascination: War, Enemies, and the Other in the Soviet Bloc through the 1950s, Zeitschrift für Ostmitteleuropa-Forschung 62 (2013): 425-449
"Red State, Golden Youth: The Student Culture and Political Protest in Poland in the 1960s," in Between the Avant-Garde and the Everyday: Subversive Politics in Europe, 1958-2008, edited by Timothy Brown and Lorena Anton (Oxford and New York: Berghahn Books, 2011), 145-153