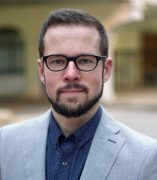 Adam Goodman, PhD
Associate Professor
History
Latin American and Latino Studies
Contact
Address:
601 S Morgan St.
Email:
Related Sites:
About
Adam Goodman is an associate professor in the Department of History and Latin American and Latino Studies Program at the University of Illinois Chicago (UIC). His research and teaching interests include migration history and policy; Mexican American and Latino/a/x history; border and borderlands history; and recent US, Mexican, and Central American history.
Goodman's award-winning book, The Deportation Machine: America's Long History of Expelling Immigrants (Princeton UP, 2020), was a finalist for the Los Angeles Times Book Prize in History. It traces the US government's systematic efforts to terrorize and expel noncitizens over the past 140 years. The book uncovers public officials' use of force, coercion, and fear to purge immigrants from the country and exert control over those who remain. The Deportation Machine introduces the politicians, bureaucrats, businesspeople, and ordinary citizens who have pushed for and profited from expulsion. It chronicles the devastating human costs of punitive enforcement policies and the innovative strategies people have adopted to fight against removal and redefine belonging in ways that transcend citizenship.
Goodman has written articles, essays, and reviews for publications such as the Journal of American History, The Nation, and the Washington Post. He has discussed Latino history and immigration policy in Spanish- and English-language interviews on Latino USA, Univisión, BBC Radio 4, CSPAN's Book TV, Mexico's Canal 22, and BackStory, among other programs and outlets.
Goodman is a co-organizer of the #ImmigrationSyllabus project and the Newberry Library's Borderlands and Latino/a Studies Seminar. He also serves as a faculty advisor to UIC's Fearless Undocumented Alliance and as a member of the Statue of Liberty-Ellis Island Foundation History Advisory Committee. The National Endowment for the Humanities, Fulbright Program, and Immigration and Ethnic History Society have supported his work.
Before moving to Chicago, Goodman was a Provost's Postdoctoral Fellow in the Humanities at the University of Southern California in Los Angeles and a visiting scholar at the Universidad Nacional Autónoma de México in Mexico City. He received his Ph.D. in history from the University of Pennsylvania.
Selected Publications
Finalist for the Los Angeles Times Book Prize in History
Winner of the PROSE Award in North American History, Association of American Publishers
Winner of the Henry Adams Book Prize, Society for History in the Federal Government
Honorable Mention for the Theodore Saloutos Book Award, Immigration and Ethnic History Society
Finalist for the Shapiro Book Prize, The Shapiro Center for American History and Culture at The Huntington