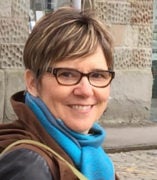 Lynn Hudson, PhD
Professor
History (US, African American, gender)
Contact
Address:
601 S Morgan St.
Office Phone:
Email:
Office Hours
Fall Semester - 2023 (also by appointment)
| | | |
| --- | --- | --- |
| Sunday | | |
| Monday | | |
| Tuesday | 02:00pm – 03:00pm | |
| Wednesday | | |
| Thursday | 02:00pm – 03:00pm | |
| Friday | | |
| Saturday | | |
About
Lynn Hudson's areas of specialization include African American history, women and gender history, the history of the U.S. West, public history, and history and memory studies. She earned an MA in history from the University of North Carolina, Chapel Hill, and her Ph.D. in history at Indiana University. She is the author of The Making of 'Mammy Pleasant': A Black Entrepreneur in Nineteenth-Century San Francisco  (Urbana: University of Illinois Press, 2003), which was awarded the Barbara Penny Kanner Prize from the Western Association of Women Historians; and "`Strong Animal Passions' in the Gilded Age: Race, Sex, and a Senator on Trial," Journal of the History of Sexuality (January/April 2000): 62-84, which was awarded the Joan Jensen-Darlis Miller Prize from the Coalition for Western Women's History. Her book, West of Jim Crow: The Fight Against California's Color Line (University of Illinois Press, September 2020) documents the ways California was an innovator of methods to control, contain, and restrict African Americans. One of the primary goals of the research is to understand how the state could simultaneously be a haven from and an arbiter of discrimination. Additionally, it charts the myriad practices that African Americans and their allies employed to survive and resist segregation. Hudson has taught graduate and undergraduate courses in the histories of race and gender in the U.S. at several institutions including the University of California, San Diego and California Polytechnic State University at San Luis Obispo. Before teaching at UIC she was chair of the history department at Macalester College in Saint Paul, Minnesota.