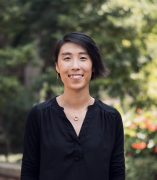 Clare S. Kim, PhD
Assistant Professor (On Leave, 2023-24 academic year)
History (US, Asian American, intellectual, history of science and technology, STS)
Pronouns: She/Her/Hers
Contact
Address:
601 S Morgan St., Chicago, IL 60607
Email:
About
Clare S. Kim is an assistant professor of History and Global Asian Studies who specializes in the history of science and technology, STS, modern US and Asian American history, and critical race and media studies. Her scholarship examines the history of twentieth and twenty-first century mathematical and computational sciences, with a particular focus on their entanglements in US intellectual and political life. She is especially interested in the place of Asians and Asian Americans as targets and agents of information and computation.
Kim's first book project explores the post-World War II interplay of calculation practices and US-East Asian relations on the racialized dynamics of knowledge control and exchange. Embedding analyses of technical and computational ways of thinking alongside shifts in US higher education, immigration policies, and intellectual property regimes, the book illuminates the racial hierarchies, sociotechnical infrastructures, and tenuous political and cultural ties that have contoured who or what counts as a computational subject. Her second book project traces the history of "cryptanalysis" from the First World War through the Cold War, examining how changing humanistic and computational practices collectively participated in military intelligence work and became embedded in ideas about security.
Kim's work has been published and featured in Osiris, IEEE Annals of Computing, and PRI's The World. She has received research grants and fellowships from the National Science Foundation, MIT Center for International Studies, and Notre Dame Institute for Advanced Study, among others. Prior to joining UIC, Kim was a Mellon Postdoctoral Fellow in Modeling Interdisciplinary Inquiry at Washington University in St. Louis. She received her PhD from the Program in History, Anthropology, and Science, Technology, and Society at the Massachusetts Institute of Technology.