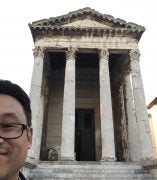 Young Richard Kim, PhD
Associate Professor and Head of Classics and Mediterranean Studies
History (ancient Mediterranean world, late Antiquity; late ancient Christianity, Byzantine Studies, Hellenic Studies)
Pronouns: He/Him/His
Contact
Address:
601 S Morgan St.
Office Phone:
Email:
CV Download:
Related Sites:
About
Young Kim is associate professor and head of Classics and Mediterranean Studies, with an additional appointment in the Department of History. He is a scholar and teacher of the ancient Mediterranean world, with wide interests and specific expertise in Late Antiquity, Late Ancient Christianity, and Early Byzantine Studies.
Prior to joining UIC, Dr. Kim worked as Director of Educational Programs for the Onassis Foundation USA and as associate professor at Calvin College. His current research project is a book on Cyprus in Late Antiquity.
Dr. Kim earned his M.A. and Ph.D. from the University of Michigan (2004, 2006) and his B.A. from UCLA (1999).
Selected Publications
"Paparrigopoulos on Continuity, Constantine, and the Council of Nicaea." Journal of Modern Greek Studies 41, no. 1 (2023): 1-23.
"Cypriot Hagiography and the Long Late Antiquity." In Cyprus in the Long Late Antiquity: History and Archaeology between the Sixth and Eighth Centuries, edited by Panayiotis Panayides and Ine Jacobs, 27-34. Oxford: Oxbow, 2023.
Cambridge Companion to the Council of Nicaea, edited by Young Richard Kim. Cambridge Companions to Religion. Cambridge: Cambridge University Press, 2021.
Leadership and Community in Late Antiquity: Essays in Honour of Raymond Van Dam. edited by Y. R. Kim and A. E. T. McLaughlin. Cultural Encounters in Late Antiquity and the Middle Ages 26. Turnhout: Brepols, 2020.
"Cypriot Autocephaly, Reconsidered." In From Roman to Early Christian Cyprus: Studies in Religion and Archaeology, edited by Laura Nasrallah, Charalambos Bakirtzis, and AnneMarie Luijendijk, 153-67. Wissenschaftliche Untersuchungen zum Neuen Testament 437. Tübingen: Mohr Siebeck, 2020.
"The Little Island That Could: Cyprus in the Fifth Century." In The Fifth Century: Age of Transformation. Proceedings of the 12th Biennial Shifting Frontiers in Late Antiquity Conference, edited by Jan Willem Drijvers and Noel Lenski, 121-34. Munera 46. Bari: Edipuglia, 2019.
"An Iconic Odd Couple: The Hagiographic Rehabilitation of Epiphanius and John Chrysostom." Church History 87 (2018): 981-1002.
Epiphanius of Cyprus: Imagining an Orthodox World. Ann Arbor: University of Michigan Press, 2015.
St. Epiphanius of Cyprus: Ancoratus. Fathers of the Church 128. Washington, DC: Catholic University of America Press, 2014.