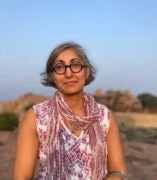 Rama Sundari Mantena, PhD
Associate Professor (On Leave, 2023-24 academic year)
History (South Asia, India, British Empire)
Contact
Address:
601 S Morgan St.
Email:
Office Hours
Office Hours - Fall Semester
| | | |
| --- | --- | --- |
| Sunday | | |
| Monday | | |
| Tuesday | | |
| Wednesday | 11:00am – 12:00pm | and by appointment |
| Thursday | | |
| Friday | | |
| Saturday | | |
About
Rama Mantena teaches survey and thematic courses on Modern India, on nationalism, colonialism, the British Empire, and women and gender in Indian history. Her first book The Origins of Modern Historiography in India (New York: Palgrave Macmillan, 2012) explored everyday practices surrounding acts of collecting, surveying, and antiquarianism in the early period of British colonial rule in India. By investigating early imperial strategies of producing historical knowledge, the book traces the colonial conditions of the production of "sources," the forging of a new historical method, and the ascendance of positivist historiography in nineteenth-century India. Her second book Provincial Democracy: Political Imaginaries and the End of Empire in Twentieth-century South India (Cambridge University Press, 2023) explores how the international discourse of self-determination during the interwar period had a profound impact on discussions of governance and democracy and the path towards popular sovereignty in colonial South India. The book tracks how anti-colonial nationalism in the early twentieth century inspired the democratic project of self-government not only at the national level but more importantly at the provincial level. The turn to the region shifts the story of nationalism in the colony to a story of democracy. By delving into the archives of provincial politics, the book illuminates how calls for self-determination and federation proposals in the interwar period shaped the emergent democratic culture in South India.
Selected Publications
"Publicity, civil liberties and political life in Princely Hyderabad," Modern Asian Studies 53(4), (2019): 1248-1277.
"Anti-colonialism and Federation in Colonial India," Ab Imperio 3/2018, 36-62
"The Andhra Movement, Hyderabad State and the Historical Origins of the Telangana Demand: Public Life And Political Aspirations in India, 1900-1956," India Review, vol. 13, no. 4 (2014), 337-357.
"Vernacular Publics and Political Modernity: Language and Progress in Colonial South India." Modern Asian Studies 47, 5 (2013), 1678–1705.
"The Origins of Modern Historiography and Indian Intellectual History," a special issue on the work of Professor Velcheru Narayana Rao in eemaata: a telugu webzine for a world without borders (January 2013).
The Origins of Modern Historiography in India: Antiquarianism and Philology, 1780-1880 (New York: Palgrave Macmillan, 2012). For a review of the book, see The American Historical Review 118, 2 (2013), 501-502.
"Imperial Ideology and the Uses of Rome in Discourses on Britain's Indian Empire." In Classics and Imperialism in the British Empire, ed. Mark Bradley (Oxford University Press, 2010), 54-73.
"The Question of History in Pre-colonial India." History and Theory 46 (2007), 396-408.