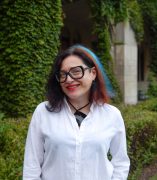 Marina Mogilner, PhD
Associate Professor
History (Eurasia (Russian and Soviet imperial formations), Eastern Europe, intellectual, comparative empires)
Contact
Address:
601 S Morgan St.
Office Phone:
Email:
CV Download:
Related Sites:
Office Hours
Fall Semester - Zoom by appointment on Tuesday & Wednesday
| | | |
| --- | --- | --- |
| Sunday | | |
| Monday | 11:00am – 02:00pm | in UH 1001 |
| Tuesday | | |
| Wednesday | | |
| Thursday | | |
| Friday | | |
| Saturday | | |
About
I consider myself a global scholar who studied, taught, and conducted research in Russia, USA, and in a number of European countries. This professional trajectory reflects my interest in studies of (imperial) diversity, and in the political and intellectual organization of complex multi-national and multi-cultural societies. My field of specialization can be broadly defined as a New Imperial History of Russia and the USSR.  I am interested in working with graduate students who intend to pursue research on the Russian empire and Soviet Union, comparative history of empires, nationalism, and racism, the history of science and ideas, and Russian/Eastern European-Jewish history.
In my first book, Mythology of the "Underground Man:" Russian Radical Microcosm in the Early Twentieth Century as an Object of Semiotic Analysis (Moscow, 1999),  I traced the genesis, rise, and demise of the intellectual canon of Russian radicalism of the nineteenth−early twentieth centuries in its pan-imperial dimension. My second book, Homo Imperii: A History of Physical Anthropology in Russia (Moscow, 2008), was the result of a decade of research in archives and libraries in five countries. As a history of Russian physical anthropology, it is also a revisionist reading of the Russian imperial experience that is often regarded as "premodern," based on "non-Western" ideologies and practices that did not need "race" to legitimize regimes of difference and cultural and social stratifications. A substantially revised and extended English version of this book is published in 2013 by Nebraska University Press in its acclaimed "Critical Studies in the History of Anthropology" series.
Currently I am working on a book project dedicated to Jewish race scientists and intellectuals who, for different reasons and in different contexts, insisted that Jewishness was based on race. One line of my inquiry reconstructs the intellectual communicative space of Jewish race science—its international dimension as well as its specific Russian imperial version. Another line consists in revising Russian-Jewish political (Russian Zionism), cultural (literary and linguistic debates), and medical discourses and practices in the light of the racialized understanding of modern Jewishness. Ultimately, I intend to show how the Russian-Jewish intellectual "romance" with race, so typical of the epoch of "nations and nationalisms," was facilitated by the specific Russian imperial situation.
Parallel to this, I am engaged in a collective project of writing a new college textbook on Russian/Eurasian history that aims to integrate the most valuable achievements of the new imperial history approach (most important—the idea of studying the process of organizing, rationalizing, and making sense of human diversity).
A very important part of my academic career is associated with the Ab Imperio quarterly – a bilingual humanities and social sciences peer-reviewed journal dedicated to studies in new imperial history, and the interdisciplinary and comparative study of nationalism and nationalities in the post-Soviet space. It is published in Russia and the US, and provides a venue for scholars from different countries and academic traditions to discuss the history of cultural diversity without essentializing the ethnoconfessional nation as its fundamental and self-evident basic unit.