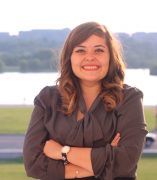 Ivón Padilla-Rodríguez, PhD
Bridge to Faculty Postdoctoral Research Associate
History
Contact
Address:
601 S Morgan St., Chicago, IL 60607
Email:
Related Sites:
About
Ivón Padilla-Rodríguez is a socio-legal historian of child migration and a scholar-activist. The daughter of formerly undocumented Mexican immigrants, her research in and outside of the academy is rooted in her longstanding commitments to immigrant communities.
She is currently working on a book manuscript that historicizes child-centered mechanisms and consequences of U.S. immigration exclusion. Her work uncovers the origins of undocumented youth labor trafficking, the "school-to-deportation" pipeline, and migrant child detention in the twentieth century. It argues that contests over the rights of child migrants racialized border-crossing Latinx youth and hardened the distinctions between the citizen and the migrant. It also reveals how paternalistic ideas about childhood innocence get weaponized to extend the carceral state's reach, ensnaring migrants of all ages into its expanding dragnet.
Outside of the academy, her writing and research have appeared in The Washington Post, Time, Teen Vogue, and NACLA. She has also authored policy briefs on the migration of children and women for the federal government and non-profits in the U.S. and Mexico.
Dr. Padilla-Rodríguez earned her Ph.D. in History from Columbia University, where her research was supported by the Ford Foundation, Harry S. Truman Scholarship Foundation, American Historical Association, American Society for Legal History, and the Immigration and Ethnic History Society, among others.
Selected Publications
Peer-Reviewed Articles
Ivón Padilla-Rodríguez, "'Los Hijos Son La Riqueza Del Pobre:' Mexican Child Migration and the Making of Domestic (Im)migrant Exclusion, 1937-1960." Forthcoming in the Journal of American Ethnic History.
Ivón Padilla-Rodríguez, "'A Violation of the Most Elementary Human Rights of Children:' The Rise of Migrant Youth Detention and Family Separation in the American West" in Ed. Brenden Rensink, Modern Frontiers: Essays on the American West in the Twenty-First Century (Lincoln: University of Nebraska Press). Forthcoming Fall 2022.
Ivón Padilla-Rodríguez, "Child Migrants in Twentieth-Century America" in the Oxford Research Encyclopedia of American History (New York: Oxford University Press), December 2020.
Public Scholarship
Ivón Padilla-Rodríguez, "The Origins of an Early School-to-Deportation Pipeline," NACLA, November 2020.
Ivón Padilla-Rodríguez, "The U.S. Separated Families Decades Ago, Too. With 545 Migrant Children Missing Their Parents, That Moment Holds a Key Lesson," Time, November 2020.
Ivón Padilla-Rodríguez, "The extraordinary scene unfolding in Portland has a disturbing history. How immigration enforcement and policing became entwined," The Washington Post, July 2020.
Ivón Padilla-Rodríguez, "The Supreme Court may have just made violence against immigrant children more likely. By deciding the Border Patrol agent who shot a teen could not be sued, the court is perpetuating a long history of violence against immigrant children," The Washington Post, February 2020.
Ivón Padilla-Rodríguez, "Beyond Zero-Tolerance: How Rights Violations Follow Migrant Children Past the Border," L.A. Review of Books, September 2018.
Ivón Padilla-Rodríguez, "How I Went from Homelessness to Being an Ivy League Student," Teen Vogue, January 2017.
Emma Sepúlveda and Ivón Padilla-Rodríguez, Eds., The Country I Call Home: Stories of Growing Up a Citizen in Every Way But One (Reno: Latino Research Center Press, 2015).
Second Place, "Best Political/Current Affairs Book," International Latino Books Awards