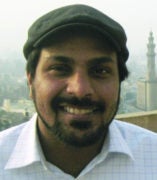 Junaid Quadri, PhD
Associate Professor and Director of Undergraduate Studies
History (Middle East, Islam, colonialism, intellectual, religious)
Contact
Address:
601 S Morgan St.
Office Phone:
Email:
CV Download:
Office Hours
Office Hours - Fall Semester
| | | |
| --- | --- | --- |
| Sunday | | |
| Monday | | |
| Tuesday | | |
| Wednesday | 11:00am – 12:00pm | |
| Thursday | 01:00pm – 02:00pm | via Zoom |
| Friday | | |
| Saturday | | |
About
Junaid Quadri is Associate Professor of History, Director of Undergraduate Studies in History, and Director of the Program in Religious Studies at the University of Illinois at Chicago. He teaches courses in Middle Eastern civilizations, Islamic intellectual history, and colonialism and modernity in the Muslim world.
His research attempts to better understand developments in Islamic thought, especially in the modern period. His first book, Transformations of Tradition: Islamic Law in Colonial Modernity (Oxford University Press, 2021) studies the encounter between Islamic law and colonial power, examining shariʿa discourses as they develop in relation to fundamental categories of modernity. Through close readings of the work of Muhammad Bakhit al-Mutiʿi, Mufti of Egypt for a time and a leading scholar at the Azhar, and careful attention to the transregional networks in which he was embedded, Transformations of Tradition shows that the colonial moment of the late nineteenth and early twentieth centuries marked a significant rupture in how Muslim jurists understood history and authority, science and technology, and religion and the secular, thereby upending the very ground upon which Islamic law had until then functioned.
In a separate but indirectly related project, he examines the mechanisms through which Islamic legal texts historically incorporated a space for the cultivation of ethical virtues through techniques of habituation and discipline. This forces us to reconsider the disciplinary separation of Islamic law from virtue ethics, suggesting much more of a continuity between Muslim jurists (fuqahāʾ) and akhlāq writers drawing closely on Aristotelian ethical ideals. The first publication to come from this project is "Moral Habituation in the Law: Rethinking the Ethics of the Sharīʿa," Islamic Law and Society 26 (2019): 191-226.
Quadri holds a PhD from the Institute of Islamic Studies at McGill University. He has previously been the recipient of fellowships from the American Council of Learned Societies; the Woodrow Wilson National Fellowship Foundation; the American Center for Oriental Research in Amman, Jordan; the American Research Center in Egypt; and the Social Sciences and Humanities Research Council. In the 2014-2015 academic year, he taught at the Qatar Faculty of Islamic Studies in Doha.