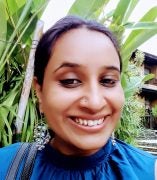 Ajapa Sharma
Graduate Student
History
Pronouns: She/Her/Hers
Office Hours
Office Hours - Fall Semester
| | | |
| --- | --- | --- |
| Sunday | | |
| Monday | | |
| Tuesday | 12:00pm – 01:00pm | Via Zoom |
| Wednesday | | |
| Thursday | 12:00pm – 01:00pm | Via Zoom |
| Friday | | |
| Saturday | | |
About
Ajapa Sharma is a Ph.D student working on Modern South Asian history with Professor Mark Liechty.
Her experiences as a Nepali academic migrant in India and the US have shaped her intellectual trajectory. Her research explores the place of mobile subjects, and the state's efforts to monitor, surveil and control them, in shaping Nepali political sovereignty and legal-political difference in South Asia in the period of late British colonialism (1900-1955).
Ajapa co-founded Mithila Review an international journal of Science Fiction and Fantasy, the first of its kind to be published from South Asia in 2015. She occasionally writes poetry, some of which were published in Itisha Giri (ed.), These Fine Lines: Poems of Restraint and Abandon (Lalitpur, SAFU, 2015), an anthology of Nepali women poets writing in English.
Notable Honors
2020, Graduate College's Public Service Graduate Internship Award, University of Illinois at Chicago
2019, Provost's Graduate Research Award, University of Illinois at Chicago
Education
Education:
M.Phil, Jawaharlal Nehru University, New Delhi, 2017.
M.A, Jawaharlal Nehru University, New Delhi, 2015.
B.A Mount Holyoke College, 2013.
COURSES TAUGHT
At University of Illinois at Chicago (TA):
Gandhi: The History and Politics of Nonviolence (Fall 2020)
Western Civilization Since 1648 (Fall 2019 and Summer 2020)
Western Civilization Before 1648 (Spring 2019)
World History (Fall 2018 and Spring 2020)
At the University of Wisconsin Madison and CET Study Abroad Program in Varanasi and New Delhi, India:
Summer Internship in India: Bridging Theory and Practice (Summer 2018 and Summer 2020)
Ritual, Pilgrimage, and Pluralism: the Practice of Religion in India (Fall 2017 and Spring 2018)
Gender, Caste, Community in Varanasi: Urban Geography in Context (Spring 2018)
Selected Presentations
(Upcoming, October 2020) 49th Annual Conference on South Asia, University of Wisconsin at Madison, Panel on, "South Asia In Motion: Mobility, Movement, Bodies."
"Writing the Past" conversation with Amitabha Bagchi on his award-winning novel Half the Night is Gone at the IME Nepal Literature Festival, Pokhara, Nepal (14th December 2019)
"Delicate Dances in Diplomacy: Nepal's Equidistance Policy on Eve of the Indo- China War of 1962," Talk at the Rotary Club of Kupondole, Lalitpur Nepal, (9th September 2017)
"Dialogic Imaginations: Intersections in B.P Koirala's Politics and Poetics" Presented at the Colloquium "Politics, Poetics and World Literature" at the 6th Summer Session at the Institute of World Literature, Harvard University (June 20th – July 14th 2016).
Research Currently in Progress
Research Interests:
Modern South Asia, Nepal, Empire, Law, Sovereignty, Exile, Subjectivity, Family and Gender, Intellectual History, Diplomatic History