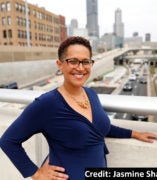 Elizabeth Todd-Breland, PhD
Associate Professor (On Leave, 2023-24 academic year)
History (US 20th c., African American, urban, history of education)
Contact
Address:
601 S Morgan St.
Office Phone:
Email:
About
In her research and teaching, Professor Todd-Breland focuses on 20th-century United States urban and social history, African American history, and the history of education. Her work also explores interdisciplinary issues related to racial and economic inequality, urban public policy, neighborhood transformation, education policy, and civic engagement. Her book, A Political Education: Black Politics and Education Reform in Chicago since the 1960s (University of North Carolina Press, 2018), analyzes transformations in Black politics, shifts in modes of education organizing, and the racial politics of education reform from the 1960s to the present. Professor Todd-Breland's writing has appeared in the Journal of African American History, Souls, and scholarly edited volumes. She has also contributed to popular outlets, including NPR, ESPN, the Washington Post, and local radio, television, print, and online media.
Professor Todd-Breland also coordinates professional development workshops, curricula, and courses for K-12 teachers and gives public talks on African American history, urban education, and college readiness.
Her research has been supported by grants and fellowships from the National Academy of Education, Spencer Foundation, Andrew W. Mellon Foundation, American Council of Learned Societies, Social Science Research Council, Ford Foundation, and UIC Institute for Research on Race and Public Policy. Professor Todd-Breland earned her Ph.D. in History from the University of Chicago.
CV Download: CV, Todd-Breland