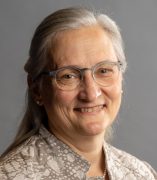 Laura Hostetler, PhD
Professor
History (China, cartography, ethnography)
Contact
Address:
601 S Morgan St.
Email:
CV Download:
About
Laura Hostetler's research interests include the history of cartography, empire, and encounters
between Europe and Asia.
Qing Colonial Enterprise: Ethnography and Cartography in Early Modern China (University of Chicago Press, 2001), examines ethnographic representation in the context of colonial contacts between the Qing empire and culturally non-Chinese peoples residing in frontier areas of southwest China. The Art of Ethnography: A Miao Album of Guizhou Province (Seattle: University of Washington Press, 2005), is a translation (co-authored with David M. Deal) of an ethnographic album produced during the eighteenth century that includes a substantial introductory essay on early modern ethnography in comparative historical perspective. Qing Imperial Illustrations of Tributary Peoples (Huang Qing zhigong tu): A Cultural Cartography of Empire, co-authored with Prof. Wu Xuemei of Zhongnan University of Economics and Law, appeared from Brill in 2022.
Working on a creative non-fiction account of a year spent in northern India has led Hostetler to the practice of auto-ethnography in a post-colonial setting. Her manuscript-in-progress chronicles a quest for wholeness in a world where obtaining an education has too often become predicated on the ability to cut oneself off from aspects of their own inner knowing, lived experience, and even curiosity. She writes: A meditation on the motivations and logics out of which I responded to situations that confronted me on a human level, Bridging Worlds braids together the different threads of my being. Confronted by the varieties of human need that quite literally came knocking on my door, I found myself drawing on the tools of the scholar—reading, reflection, writing—and opening myself to the impulses of the inner life—recording my dreams, finding myself in prayer, and taking long walks in the woods. By recreating her experience through personal narrative, she transports readers into situations that elicit both empathy and an intellectual understanding of complex historical, economic, and social dynamics.
Hostetler assumed the directorship of the Engaged Humanities Initiative at UIC in Fall 2021.