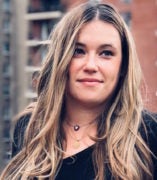 Hayley Negrin, PhD
Assistant Professor (On Leave at the Newberry Library, 2023-24 academic year)
History (Atlantic World, Native American and Indigenous Studies, Southern History)
Contact
Address:
601 S Morgan St.
Office Phone:
Email:
CV Download:
About
Hayley Negrin is a historian of early America and the Atlantic world with a focus on Indigenous history and slavery. She is a non-Native researcher who works with contemporary Native people to research, write, and teach Indigenous history.
Her book manuscript in progress Fugitive Lands: Sovereignty and Slavery in the Early American South is forthcoming with the University of Pennsylvania Press. Fugitive Lands charts the relationship between sovereignty and racial slavery in American History. The book explores how European conceptions of Black and Indigenous sovereignty shaped the development of the early American plantation complex and Black and Native people's resistance to dispossession.
Her work has appeared in the William and Mary Quarterly and Environmental History She has served as a researcher on a federal Indian law case and has published several pieces in the Washington Post on Indigenous children, racial representations of Native people, and federal Indian law.
Negrin received her Ph.D. in History from New York University in 2018. Her work has been supported by a variety of organizations including the Newberry Library, Folger Library, McNeil Center for Early American Studies, John Carter Brown Library, Virginia Historical Society, Jamestowne Society, and the Huntington Library.
At UIC she has developed an upper-level undergraduate class on the Indigenous History of UIC and Chicago in coordination with the Native American Support Program. She also teaches an introductory survey of Early American history for undergraduates, a 200-level survey of Native American history and various graduate classes pertaining to her research topics.
She works to educate the public in her adopted home of Chicago on the Indigenous history of Chicago and the contemporary Native people who currently call the city home.
In NYC, Negrin was a member of the NYC Stands With Standing Rock collective, developers of the Standing Rock Syllabus.
Selected Publications
"Cockacoeske's Rebellion: Nathaniel Bacon, Indigenous Slavery, and Sovereignty in Early Virginia," William and Mary Quarterly 80, no. 1 (2023): 49-86.
"Return to the Yeokanta/River: Powhatan Women and Environmental Treaty Making in Early America," Environmental History 28, no. 3 (2023): 522-553.
"Native American Children are Under Threat-Again" Washington Post
"Some Representations of Native Americans Erase Their Histories" Washington Post