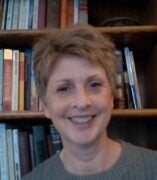 Julie Peters
Clinical Professor and Associate Director of Teaching of History Program
History (US, educational practice)
Contact
Address:
601 S Morgan St.
Office Phone:
Email:
CV Download:
Office Hours
Fall Semester - By Zoom appointment only
| | | |
| --- | --- | --- |
| Sunday | | |
| Monday | | |
| Tuesday | | |
| Wednesday | | |
| Thursday | | |
| Friday | | |
| Saturday | | |
About
Julie Peters has been the Associate Director of the Teaching of History program since 2004.  In 2022, Peters was promoted to the rank of Clinical Professor of History at UIC.
A recipient of the UIC Silver Circle Award, a Teaching Recognition Award winner from the UIC Council for Excellence in Teaching and Learning, and twice the recipient of Department of History Shirley Bill Award for teaching, she also served as a Master Teacher Scholar with the UIC Teaching and Learning Community initiative. She is actively involved in the Service-Learning and Civic Engagement Consortium (SLCEC), a group of seven Chicago universities working to build civic engagement capacity in secondary education.  She has worked extensively with various Chicago Public School professional development programs in social studies education, including the creation of a Global Citizenship Initiative civics course. Peters served as the pedagogical director for the "American Dreams" Teaching American History grant from 2008-2013 and helped develop a competency-based assessment plan for Chicago's Youth Connection Charter Schools. She has also worked with educational advocates and legislators to reform ISBE policy regarding teacher licensure.
Peters was a contributing curriculum developer for History Alive!  The United States (Teachers' Curriculum Institute, 2002) and a contributing writer for World Geography(Pearson, 2008).  She also created curriculum for the History of Medicine Division (HMD) at the National Library of Medicine (NLM) online exhibition program, Surviving and Thriving: AIDS, Politics, and Culture (2013). She has reviewed curriculum in The History Teacher and has served as a co-editor of SPACE, an online journal sponsored by the SLCEC to promote research and reflection on civic engagement.